Debkafile: "There is no way that President Vladimir Putin will relinquish Russian control of the Crimean peninsula and its military bases there – or more particularly, the big Black Sea naval base at Sevastopol. This military stronghold is the key to Russia's Middle East policy.
If it is imperiled, so too are Russia's military posture in Syria and its strategic understandings with Iran. And so, Putin responded to clashes in Crimea Wednesday, Feb. 26, by ordering an urgent combat-readiness military drill in central and western Russia, ready for immediate operation
Opinion: Crimea is a peninsula of Ukraine located on the northern coast of the Black Sea with the Autonomous Republic of Crimea occupying most of the peninsula.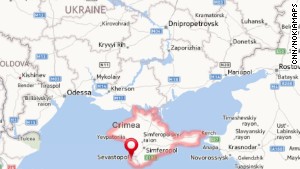 The Ukranian split is Biblical and there is nothing that Czar Putin or anyone else can do it. Ukraine was a part of the Roman Empire under the Emperor Hadrian in (117-138 AD) and before the final dictator (Daniel 9:27) enforces a peace treaty between Israel and her neighbors, each and every piece of ancient Rome (Daniel 2:31-35) must and will be reformed.