Jol: Two vehicles exploded at an Egyptian Army checkpoint in Rafah, killing 10 Egyptian soldiers. In response to the deadly attack, the Egyptian army eliminated about 40 terrorists and foiled additionally planned attacks.
In the past four years, Egypt has endured multiple terror attacks primarily perpetrated by the group in the Sinai. Since 2013 when the current Egyptian president led a coup that overthrew Muslim Brotherhood leader Mohamed Morsi, hundreds of Egyptian soldiers and policemen have been killed under Egyptian President Abdel Fattah el-Sisi's leadership. more …
Opinion: The Muslim Brotherhood was founded in 1928 in Egypt. Brotherhood sub-groups include Hamas, Islamic Jihad, al Qaeda, CAIR and INSA.
Hosni Mubarak, was Egypt's president from 1981 to 2011. After Egypt's defeat in the "Six Day War", Mubarak banned the Muslim Brotherhood and its anti-Semitic spiritual leader Yusef Qaradawi, and established diplomatic relations with Israel.
June 4, 2009: Barack Obama gave legitimacy to the Muslim Brotherhood by inviting a delegation to his Cairo speech.
December 2010: Arab Protests arose in Tunisia following Mohamed Bouazizi's self-immolation. There were also significant protests in Algeria.
January 2011: Protests arose in Oman, Yemen, Egypt, Syria, & Morocco. The government was overthrown in Tunisia on January 14, 2011. On January 25, 2011, thousands of protesters in Egypt gathered in Tahrir Square, in Cairo. They demanded the resignation of President Hosni Mubarak.
February 11, 2011: The President of Egypt Hosni Mubarak resigned, and transferred his powers to the Supreme Council of the Armed Forces.
February 15, 2011: Protests broke out against Muammar Gaddafi's regime in Benghazi, Libya, starting the uprising that would soon turn into the Libyan Civil War.
March 15: Protests began in Syria.
June 24, 2012: Muslim Brotherhood's Mohamed Morsi won the presidency of Egypt. Morsi received $1.5 billion in cash, four F16 fighter jets and 125 Abrams tanks from Obama/Clinton.
June 2012 – 2014: Egypt descended into chaos. General Abdel Fattah el-Sisi staged a coup and took over the government. El Sisi became Egypt's president and arrested Muslim Brotherhood leaders. US/Egypt relations in shambles.
October 31, 2015: The downing of Russian passenger airliner Metrojet Flight 9268 over north Sinai following its departure from Sharm e-Sheikh, killing 213, by a suspected bombing led to a mass exodus of almost 20,000 tourists. Sharm e-Sheikh became a "ghost town," according to the Daily Mail. In October 2016, Egyptian President Abdel Fattah al-Sisi declared a state of emergency in north Sinai.
While the Sinai resorts are magnets for young club-goers from all over Europe, the area is also of major prophetic significance: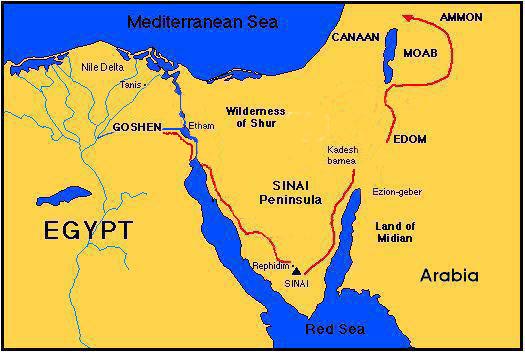 Exodus 17:10-13 records that because of the relentless attacks in the Exodus, Moses commanded the Israelite general Joshua, a descendant of Rachel and Jacob, to take on Amalekites, the descendants of Esau, in the Sinai at Rephidim.
And the Sinai is prophesied as the area of 'Amalek' in the future war of Psalm 83:6 "The tents of Edom and the Ishmaelites; Moab and the Hagrites;  Gebal, Ammon, and Amalek".
And Amalek is one whom God has sworn to have war with in every generation, Exodus 17:16.
Interesting that not much has changed in 3500 years.
(see Bible Prophecy 101 chapter 6 here and Blood Feud chapter 7 here, for more on Psalm 83).