Zero Hedge: Yesterday we addressed what is perhaps the most important issue for markets, namely when will the Fed taper, prompted by some unexpected "optimism" by Philly Fed president Harker who said "I could see, potentially, that occurring at the very end of 2021 or early 2022″ although he quick caveated that "it is all going to depend on the course of the economy, which will depend on the course of the virus." He also admitted that this tapering "could cause disruption in the markets if we try to do it too soon," adding that as a result "I have many degrees of caution on this, to just be steady as she goes until we start to really see the economy healing."
He was referring to the infamous taper tantrum in 2013 when Bernanke announced the end of QE3, which resulted in a dramatic pullback in 10Y yields over the next few months.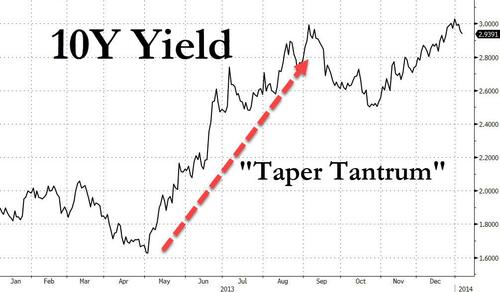 In an opinion released almost concurrently, Goldman was far more realistic, and in its revised outlook on the economy following the Georgia Blue Sweep, said that it expects tapering to begin no earlier than 2022 and no rate hikes until 2025. Read More …
Opinion: Don't hit the delete button. Tapering is simply the gradual reversal of a quantitative easing that when tried in 2018, cratered the US stock market 20% until the Fed reversed.
Fed Purchases, is another name for quantitative easing, or printing money to buy government binds, that is done to shore up (deceive) buyers' and sellers' into having confidence in the market.
Translation: The real US economy is so weak from the Covid shutdown that the Federal Reserve will continue printing money at least until 2022. In reality they will never stop printing money and some day it will lead to the biggest global economic meltdown in history as foretold in Revelation 6:5-6,13:16-17,18:1-11.
It's so crazy. Economic elites know it can't go on, but have no choice. I can't help but believe that the crisis will begin in Europe, since Daniel 9:26 tells us that the next leader of the final authoritarian government will begin his rule from there.
" … And the people (Rome) of the prince who is to come (Antichrist)
Shall destroy the city (Jerusalem) and the sanctuary (Temple) …" Daniel 9:26
See The 1% and Revelation: Do Not Harm the Oil and Wine here