Wolf Street:
For now, the story is that it's just temporary.
For now, the story is that the sudden and massive shifts in the economy in 2020 have caused shortages and distortions in the goods-producing sectors and in shipping and trucking, as consumer spending has shifted from services – such as flying somewhere for vacation and spending oodles of money on lodging and restaurants and theme parks – to goods, particularly durable goods.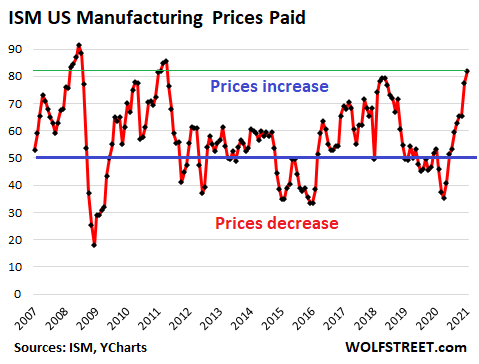 The story is that prices are rising because components and commodities are in short supply, and supply chains are dogged by production issues, and are facing transportation constraints, as demand for those goods has suddenly surged. And that all this is temporary.
And the Fed has said it will ignore inflation for a while, that it will allow it to overshoot, and only when it overshoots persistently for some unknown amount of time and becomes "unwelcome" inflation – "unwelcome" for the Fed – that it will try to tamp down on it.
Meanwhile, inflation pressures are building up. Read More