And Magazine: Since May 10th literally thousands of rockets launched by the terrorist group Hamas from the Gaza Strip have rained down on Israel. Airports have been closed. Israeli families have huddled in bomb shelters for safety. The Times of Israel is now publishing guidance for mothers and fathers on how to comfort their terror-stricken children.
The Biden administration has responded by announcing that it intends to send another $10 million in aid to the Palestinians. That is on top of the tens of millions of dollars it has already sent this year.
While announcing this additional aid, the Biden administration also advised that it had not yet committed to restocking Israel's Iron Dome missile defense system, which is critical to preventing wholesale slaughter in Israel by Hamas rockets. The White House has money for terrorists, but it might not agree to keep Israel supplied with the ammunition it needs to stay safe.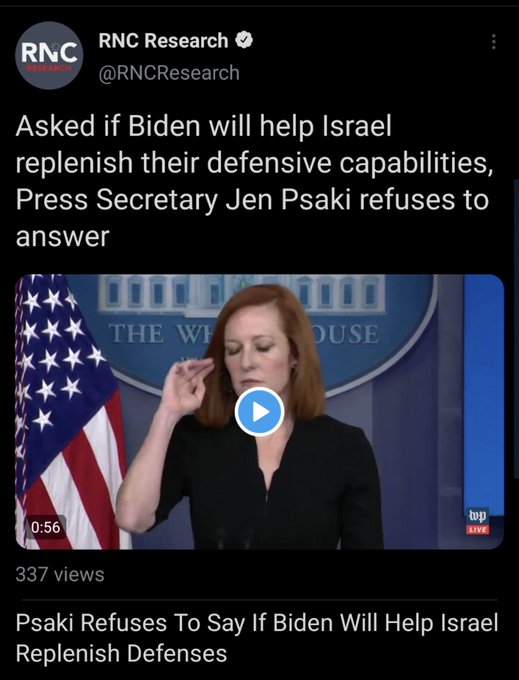 Opinion: A Catholic president surrounded by anti-Semitic secular progressive leftists is a sure-fire recipe for God's wrath:
"And I will bless them that bless thee, and curse him that curseth thee: and in thee shall all families of the earth be blessed" Genesis 12:3.
(It is the role of the Catholic Magisterium to interpret in a decisive way both Sacred Scripture and Sacred Tradition. According to the Catechism, Catholic Tradition is equal to  Scripture (CCC 822 HERE).
Are one billion 200 million Catholics unaware what the Bible says about God's chosen people? And that the family line of Abraham, Isaac, and Jacob, not Rome, would bring the Messiah, not once but twice?
"On that day His feet will stand on the Mount of Olives, east of Jerusalem, and the Mount of Olives will be split in two from east to west, forming a great valley, with half of the mountain moving north and half moving south." Zechariah 14:4
When He returns, Jesus will go to Edom (Isaiah 53:1-3) to put an end to the enemy of His people. He will defeat Antichrist with the brightness of His coming (2 Thess. 2:8), and He will bring His chosen people to redemption (Zechariah 12:10).
Paul expands on this miracle in Romans 11:25-27
"For I would not, brethren, that ye should be ignorant of this mystery, lest ye should be wise in your own conceits; that blindness in part is happened to Israel, until the fulness of the Gentiles be come in.
26 And so all Israel shall be saved: as it is written, There shall come out of Sion the Deliverer, and shall turn away ungodliness from Jacob:
27 For this is my covenant unto them, when I shall take away their sins."
I cannot find one mention of Rome, or Palestinians, in these passages.