A delegation from the Israel Defense Forces' Medical Corps and Logistics Corps was ready to depart for Turkey on Wednesday morning to establish a field hospital following 7.7 and 7.6 magnitude earthquakes that have killed at least 7,100 people in Turkey and Syria.
The field hospital will be led by the commander of the Home Front Command Search and Rescue Brigade, Col. Elad Edri, in an operation the IDF has dubbed "Olive Branches."
According to the IDF, at least 230 personnel, including search and rescue experts, military medics, and Ministry of Health doctors, nurses and paramedics were part of the delegation.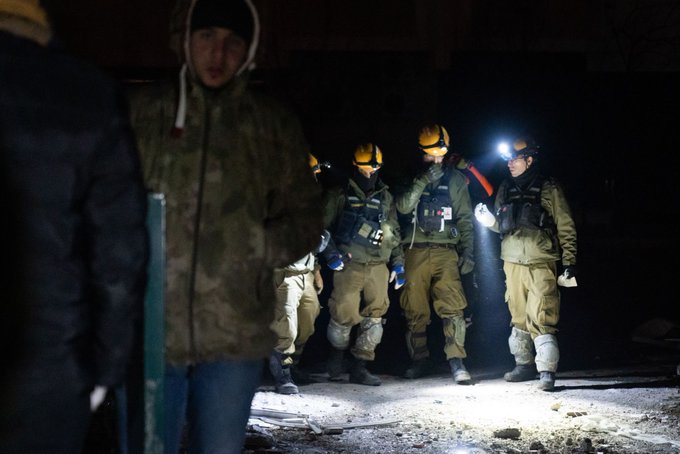 "The delegation will establish a field hospital and focus on providing medical treatment using advanced equipment brought in from Israel," the IDF said in a statement.
The first Israeli search and rescue group left for Turkey on Monday evening to conduct a situation assessment and begin efforts that a larger 150-person SAR delegation from Israel's Home Front Command joined on Tuesday morning.
On Tuesday night, Israeli rescuers managed to locate and extract a woman and a boy in separate areas in Kahramanmaraş, who were trapped under rubble from the earthquakes.
"We were on our way to a damaged site, when we were called by locals who said they heard sounds coming from the rubble. We began a complicated rescue operation that lasted four and a half hours … and we got out a 23-year-old woman in good health, only with a broken pelvis," said Maj. (Res.) Matan Schneider, the team's commander.
"And in you all the nations of the earth will be blessed" … Genesis 12:3
Trigger Warning ⚠️
RAW FOOTAGE: Watch as IDF search and rescue experts extract this 23-year-old woman to safety after the devastating earthquake in Türkiye.

For the IDF, there is no greater mission than saving a life. pic.twitter.com/KPCTgUBMfi

— Israel Defense Forces (@IDF) February 8, 2023
The deputy chief of the IDF Medical Corps, Col. Dr. Tomer Koller, is leading preparations for the Israeli field hospital and will also be managing it once it is set up.
The IDF Medical Corps chief, Brig. Gen. Dr. Elon Glassberg, said that his team was proud to be able to assist Turkey "amid the great disaster" and noted that Israel was among few countries that are able to send a field hospital.
"This is a difficult hour for the Turkish nation, and we are proud that we can come and assist," Glassberg said. "The ability to send a hospital to another country is a unique ability. Few countries are able to do such a thing and we are proud to be the ones to come and help. We have done so in the past, we will do it this time, and we will do it like always, with professionalism, from a sense of responsibility and with a sense of pride … we will bring pride to the State of Israel."
All Israel News HERE