BBC: Participants attending the World Meeting of Families in August can be forgiven their sins or help a relative speed through purgatory.
Pope Francis has granted a "plenary indulgence" for those taking part.
In Catholic doctrine an indulgence frees you from being punished for your previously committed sins or it can be passed on to dead relatives to shorten their time in purgatory.
Even those following events on TV and radio can achieve a partial indulgence as long as they recite the Our Father, the Creed and other devout prayers.
Martin Luther's opposition to the sale of indulgences was one of the main causes of the Protestant Reformation in the 16th Century. more …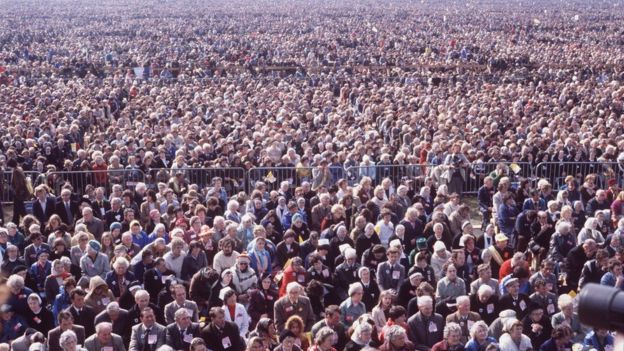 (1979 photo of millions gathered to meet Pope John Paul)
Opinion: In Roman Catholic theology, purgatory is an intermediate state after physical death in which some of those ultimately destined for heaven must first "undergo purification, so as to achieve the holiness". In simple terms, the sacrifice of Jesus' death on the cross only covered the big sins, so there is a still penalty for some sins.
The doctrine of Purgatory is not supported in Scripture and is thought to date back to the 12th century AD.
In Revelation 2:18-29, the fourth church that Jesus spoke of is called Thyatira, which means continual sacrifice. In the Catholic Church, the Lord is still on the cross, and Catholics believe that the communion wafer becomes His actual body and blood as it is consumed.
Before receiving communion, however, the Catholic church teaches that confession of sins to a priest for forgiveness is mandatory therefore, on any given Sunday there are saved and unsaved people in the pews, depending on the severity of sin and whether a person has been to confession or not.
A partial indulgence takes care of most ordinary sin but a plenary takes care of all sin. (even for dead people):
Jesus does not leave this church without hope.
"Now I say to the rest of you in Thyatira, to you who do not hold to her teaching and have not learned Satan's so-called deep secrets (I will not impose any other burden on you): Only hold on to what you have until I come. (Rev. 2:26 NIV)
Those who do and cling tenaciously to Him will have their reward.
Hits: 8