Reason (.com): Because there's nothing more important going on in the world right now, the United Nations would like to remind you that the use of gendered words and phrases is super problematic.
"What you say matters," cautions the international organization in a tweet. "Help create a more equal world by using gender-neutral language if you're unsure about someone's gender or are referring to a group."
As a general matter, world-governing authorities should not be in the business of telling people what they should and should not say. Also, the UN's list of suggested substitute words is kind of bad.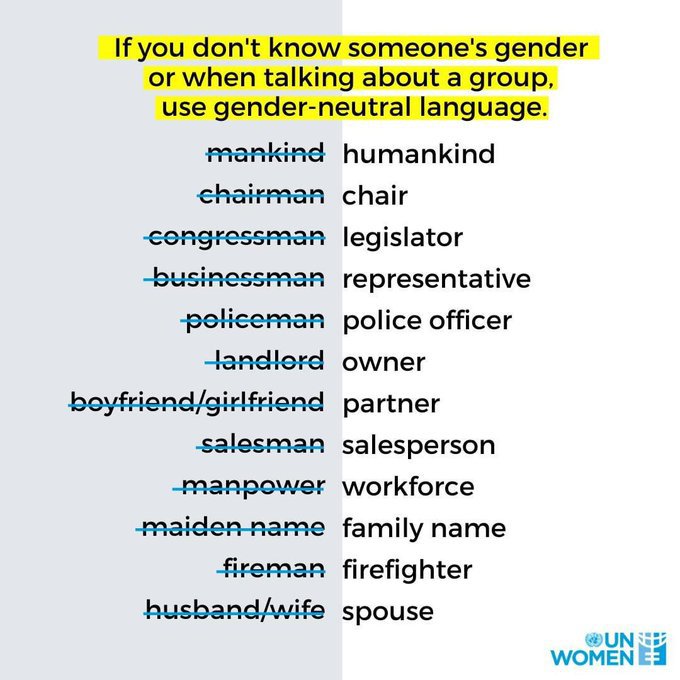 Opinion: "Did God really say, 'You must not eat from any tree in the garden'?" Genesis 3:1
A godless globalist agenda that corrupts the Word of God also began with a lie …
February 10, 2015:
Obama's latest 'evolution' on gay marriage: He lied about opposing it, Axelrod says
When President Obama said during the 2008 campaign that he did not support marriage for same-sex couples, he only did so because it was politically expedient, David Axelrod writes in his new book, Believer: My Forty Years in Politics, according to Time.
ABC News May 13, 2016
Obama to Public Schools: Allow Transgender Students Access to Bathrooms
The Obama administration today will call on public school districts nationwide to allow transgender students to use the bathroom that matches their gender identity, sources told ABC News.
As a condition of receiving federal funds, "a school may provide separate facilities on the basis of sex, but must allow transgender students access to such facilities consistent with their gender identity," reads a letter outlining guidance for schools, obtained by ABC.April 
April 10, 2016
Target's Transgender Bathroom Policy Leads to 10 Crimes Targeting Girls Undressing, Says AFA
The American Family Association has compiled a list of 10 cases to showcase why Target's bathroom policies that allow male customers who identify as female to go into women's bathrooms and dressing rooms is dangerous to women and children.
The godless Obama agenda of tearing apart the most Christian nation from its roots, is alive and well in the United Nations.
…And it will get much worse
"For the mystery of lawlessness is already at work; only He who now restrains will do so until He is taken out of the way." 2 Thess. 2:7
For Christians who shun the idea for, or have no understanding of the rapture (1 Thess 4:16-17), or catching up of believers to meet Christ in the air, it is critical to read the next verse:
"And then the lawless one will be revealed, whom the Lord will consume with the breath of His mouth and destroy with the brightness of His coming." 2 Thess. 2:8
Antichrist cannot be revealed until the church is gone. Only Christ can end the evil