Zero Hedge: It's time for Jeff Gundlach to regale DoubleLine fund investors and assorted hangers on with his views of the economy, the stock market and everything else. The title of the latest webcast is "Looking Backward" although we expect a substantial does of forward looking views and hot takes, including Gundlach's inaugural assessment of the US economy.
Readers can listen to the webcast by clicking on the following link or the image below.
More recently, he noted the divergence below, with Bitcoin rapidly outpacing both gold and the S&P 500's gains over the past year, adding ominously, "Great dispersions often precede great reversions." So will Gundlach announce his full-blown endorsement of the cryptocurrency? Stay tuned to find out.
We'll update this post with periodic highlights from the webcast.
Gundlach explains the title of today's webcast "Looking Backward", which is a nod to a novel written in 1888, and where the protagonist of Edward Bellamy's socialist-utopian novel goes into a trance in 1887 and awakens in 2000. Gundlach says the novel resembles situations in society today. In the novel the protagonist finds a year 2000 described as having shorter working weeks and equal distribution of goods. In the book, Boston is part of a totally changed world in which the U.S. has been transformed to a socialist utopia, which includes internet and full-benefits retirement at 45.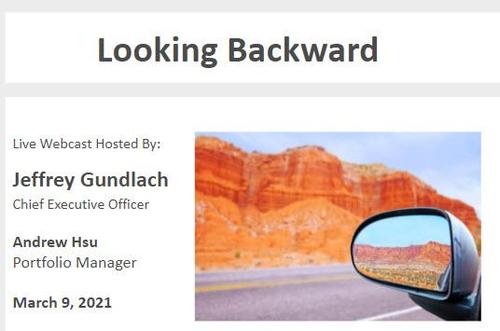 Hits: 52