Jewish Press: Jordan is intensifying its pressure on Israel to bring back what it calls "the historic status quo of Jerusalem's Al Aqsa Mosque" in order to avoid violent confrontations and an even broader conflict, Reuters reported on Thursday, citing Jordanian officials and Western diplomats.
According to Reuters, Jordan told Washington that after the end of Ramadan they should discuss with Israel the steps it should take to return to the status quo on the Temple Mount 22 years ago. Almost 22 years ago, on September 28, 2000, then-candidate for the prime minister's post Ariel Sharon paid a well-covered visit to the Temple Mount and declared that "every Jew has the right to visit the Temple Mount."
The visit and the statement provoked riots on the Temple Mount and were presented by the Arabs as the reason for the outbreak of the second intifada. Sharon was elected, and since then, a succession of Israeli governments have gradually eased the access of Jewish visitors to the holiest site for Jews.
On April 18, Secretary of State Antony Blinken and Jordanian Foreign Minister Ayman Safadi discussed how important it was for Israelis and PA Arabs to work together to end the violence and refrain from escalations. Yes, dear reader, Antony Blinken can be infuriating. Read More …
Opinion: Antony Blinken, like John Kerry before him, always made a point of moral equivalence when it comes to violence. How does Israel work together with Hamas whose very name in Arabic, chamas, means violence?
How does Israel work together with the Palestinian Authority who in 2015 actually made posters on the best places to stab a Jew?
(Artist rendering of 2nd temple)
How does Israel work together with Arabs who claim that 2 Jewish temples never existed on the Temple Mount and deny Jews the right to pray there?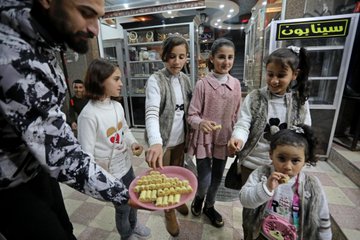 How does Israel work together with Arabs who hand out sweets after 5 Israelis were shot dead on March 30 near Tel Aviv?
And how does Israel work together with Arabs who set aside $300 million for salaries to reward the families of terrorists who kill Jews?
Rhetorical questions all, but where does it end?
"And he shall confirm the covenant with many for one week: and in the midst of the week he shall cause the sacrifice and the oblation to cease …" Daniel 9:27 KJV
What? Yes, you read that right. A 7 year (Hebrew week = 7 years) peace treaty is coming that will be confirmed by a world leader (he) after a whole lot of bloodshed.
First, possible trouble in Syria leading to the complete destruction of the city of Damascus (Isaiah 17:1,14) the oldest continuously inhabited city in the world.
Next an Arab uprising as described in Psalm 83 that will be devastating, as prophesied 3000 years ago by a temple priest named Asaph (Hebrew seer).
Followed by a Russian prince (Gog), who will form an alliance and will be dragged with 'hooks in his jaw' to attack the Jewish state for its vast wealth, Ezekiel 38:1-6.
Am I making this up?
Hardly. The he Daniel mentioned is the Antichrist, and when the peace treaty is confirmed, the most tumultuous time in history will commence.
Jesus said it like this:
"For then there will be great tribulation, such as has not been since the beginning of the world until this time, no, nor ever shall be." Matthew 24:21
See our paper "Two Trains: Israel and the Church in Prophecy HERE