Over 100 police officers were shot in the first three months of 2022, up 46% from 2021, according to a newly released Fraternal Order of Police (FOP) report.
Out of the 101 officers shot so far in 2022, at least 17 have been killed, the report found. Ambush-style attacks also increased, up 36% from 2021.
National Fraternal Order of Police (FOP)
NEW REPORT: These historic numbers are horrific and are an absolute stain on our society. When the vast majority of media elites decide that this issue isn't worth covering, it speaks volumes as to where our society is heading.
ENOUGH IS ENOUGH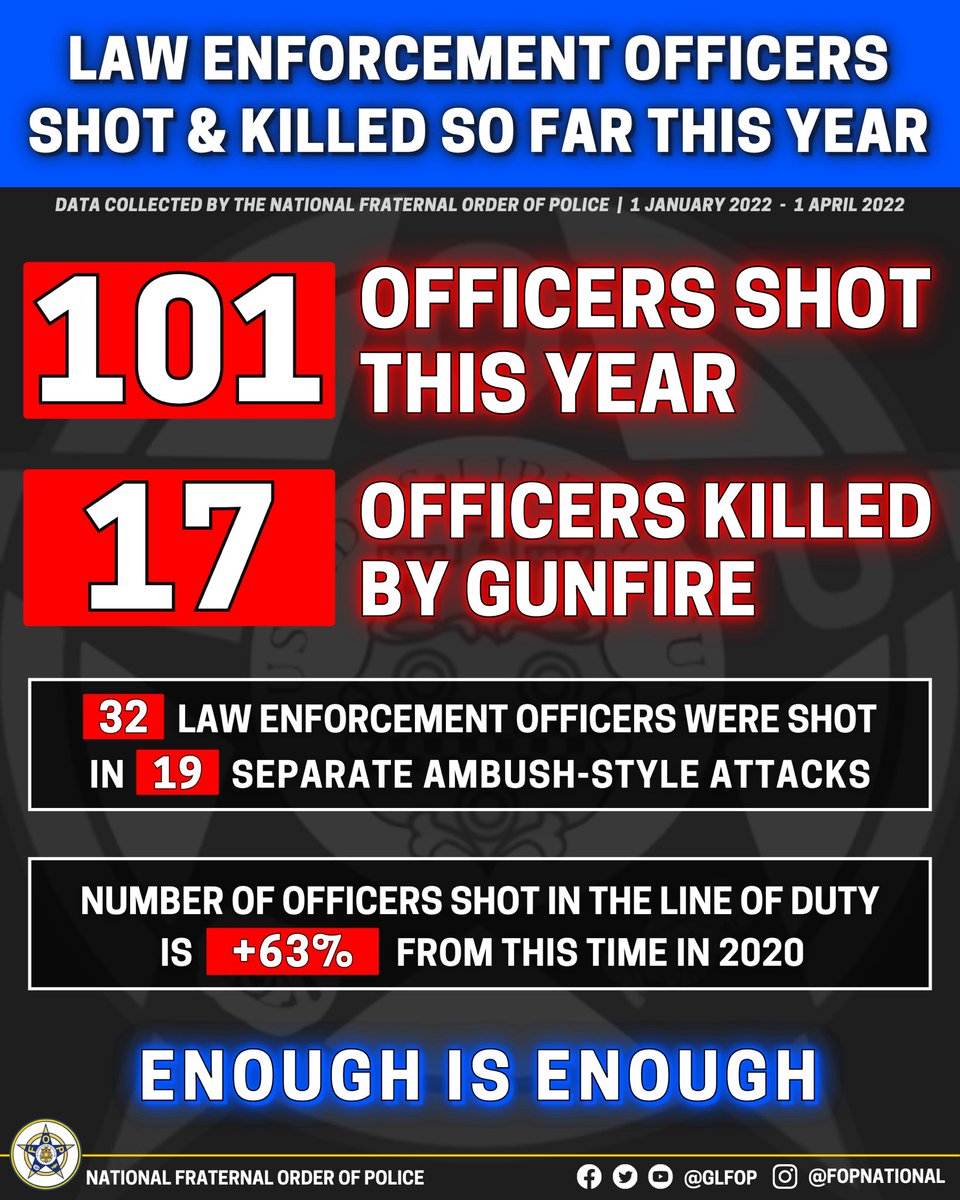 Police-related casualties have been on the rise, up 63% from 2020, which was a period when the U.S. was engulfed in widespread riots in the wake of George Floyd's death in Minneapolis, Minn., on May 25, according to the report. In 2021, there were 103 ambush attacks that resulted in 130 officers being shot, an increase of 115% from 2020. Read More …
Opinion: Lawlessness is celebrated and justified by certain segments of the nation:
Promoted police shootings, a society killing its protectors
Civilian murders in major cities breaking records
Abortion is now the #1 cause of death in the country/world
Partial-birth abortion is on the rise
Post-birth abortion is being debated
US border is officially 'open' by government
Pedophiles are now called 'minor-attracted persons'
Child porn laws are softening
The above list is not a comprehensive study on crime, but it is a list of previously un-thinkable offenses that are unique in this generation.
"And because lawlessness will abound, the love of many will grow cold." Matthew 24:12
Matthew 24 is a preview of coming events. Jesus answered His disciples' questions as to what would be happening in the world just prior to His physical return to earth. It is critical when discussing the 2nd coming to find a place for the rapture of the church.
"Behold, I tell you a mystery: We shall not all sleep, but we shall all be changed— 52 in a moment, in the twinkling of an eye, at the last trumpet. For the trumpet will sound, and the dead will be raised incorruptible, and we shall be changed." 1 Cor. 15:51-52
Bible trumpets precede a major event. In this case the trumpet signals the end of the church age when Jesus comes not physically to earth, but calls His church up to the heavenlies to meet him in the air:
"For the Lord Himself will descend from heaven with a shout, with the voice of an archangel, and with the trumpet of God. And the dead in Christ will rise first. 17 Then we who are alive and remain shall be caught up together with them in the clouds to meet the Lord in the air. And thus we shall always be with the Lord." 1 Thess. 4:16-17
I find it incredible how many Christian denominations and Bible study groups ignore the rapture doctrine and lump the 2nd coming together with the catching up of Christians AFTER the 7 year tribulation.
Post tribulation rapture is making a comeback and with it, the greatest, most spectacular news any believer could hear, is forgotten.
"Come up here" Revelation 4:1.